The world's foremost authority on all issues of culture and sociology is the
Daily Beast
, as we all know.
Well, the researchers at the DB have nailed it again, finding
Boston to be America's drunkest city
.
Here are the numbers:

Avg. monthly drinks consumed per person: 15.5Percent of population that are heavy drinkers: 7.4%Percent of population that are binge drinkers: 20.1%
Here's a quiz for you:
Q.Why do Bostonians drinks so much?
A.
WOMEN

Women in Boston are notoriously cold, let's face it. They are standoffish, snobby and extremely reserved- and those are the reasonable ones.

Often, they are self important, aloof and downright haughty.

Men could write volumes about spotting a beautiful woman in a Boston bar, approaching her and saying "Hello" only to have her act as if he had just raped her cat.

"How dare you come over here and blemish my precious aura."

If you've ever been foolish enough to approach a full table of Boston women and deigned to ask "Howsit going?", you know the feeling of being gunned-down with dismissive stares, beaten with not so subtle put downs or ignored like the putrid interloper they've labeled you.

And those are the good nights.

Enter, alcohol.

Men know it is a one-two punch.

You need to get up the nerve to talk to an attractive but potentially-nasty Back Bay brunette. By now you're so emotionally emasculated castrated that you will require some anesthesia before you once again 'storm the castle.' This is where the really impressive drinking numbers come in, whether it's "pre-gaming"at home or standing in the corner of the bar trying one of everything until you're 'ready.'

So you feel good and approach her and catch her in a 'shields-down' moment and alas, she tolerates your existence on Earth for even a minute. Now you must begin to dull her fangs - that's why God made Appletinis.

Your chances of getting any further are still minuscule but you've fought the good fight.

But why does it have to be that way?

I travel to Chicago fairly often and women are very friendly and engaging - the beauties too, all of 'em.

I found this out ten years ago while I was waiting in line at a busy bar on Lake Michigan.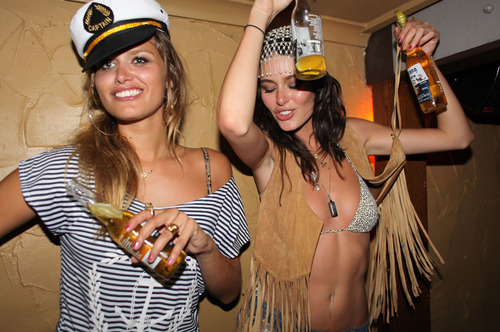 Out of nowhere a lovely woman(mostly bikini-clad, mind you) walks up and says "hello" and asks if I'm having a good time.

Obviously I assume I'm being punked or that she's doing market research or she thinks I'm a Farley or something.

But no! She was just friendly! That exists in the world away from Boston.

We had a nice conversation and she went on her way and I stood there trembling from the shock of her civility and it was good.

But that's how women are in the rest of the country - minus New York and Philly I assume.

There is a club in Boston called "Rumor." I did a Google search for clubs and this complete nightmare turned up.

Let's say you head over to Rumor for their hip "Revolution Tuesday" themed night.(I would rather be subjected to every bad thing Andy Dufresne suffered in Shawshank Redemption than actually attend any of their "Revolution" days but that's not important right now).

So you're there and you see these girls - Note: Taken from Rumor's actual gallery of duckfaced club-goers.

You expect quality conversation here?

I think these girls would absolutely give you the time of day..............as long as you're Ryan Gosling.

"Hi, we're not talking to you. I have blue nails and you don't have a Beamer."

WTF

Anyway, you get what I'm saying. Yes, this may be a little one-sided and so I'll defer to an expert. A female expert. An attractive expert.


Neely Steinberg is a Boston-based dating coach and columnist. Check her out here.

This is what Neely had to say about my contention that cold Boston women were behind our voluminous alcohol consumption:
"Alcohol is certainly a way for people to escape from themselves, no doubt. But I'd say that both men and women need to get over themselves a little bit more. I'm speaking in generalizations, of course, but Boston women could probably stand to be friendlier; they can practice smiling more and conversing even with men who don't measure up to their ideals, and also learning how to politely excuse themselves when they're ready to exit the conversation. Furthermore, women could probably benefit from not always leaving it up to men to start a conversation: See a guy you think is cute, go say hello! This is, after all, the age of gender equality (P.S. Men LOVE when you go up to them).
Neely, you abso-damned-lutely knocked it out of the park. Bravo!
She continues...
"On the flip side, men can practice confidently going up to women more (like dogs, women can smell fear), using good conversation starters and skills. They'll eventually realize that rejection isn't the worst thing in the world, that with the really rude women, it's sometimes less about you and more about them. Why would you want to end up with someone like that, anyway?
Okay Neely, I'm with you on the fear-sensing dogs but what is a good conversation starter? Saying "I saw you over here and I just wanted to introduce myself" is a good conversation starter if you're Tom Brady but it's a good conversation ender if you're Tom Shattuck.
Neely concludes...
"...men should also realize that stumbling over to someone with glazed eyes and slurred speech probably isn't going to help their cause; in that case, it IS about you."
Guilty.
Thank God I'm married.
Cheers.