If you're anything like me you woke up to the news yesterday that the baseball Hall of Fame took its ball and went home - yes -
no one is going to be inducted in to the Baseball Hall of Fame
. And if you're anything like me, you didn't care.
Everybody knows that Halls of Fame are totally fraudulent. The shiniest example is the Rock N Roll Hall of Fame where prodigious musicians and hard-drivin' Rock n' Rollers- "Public Enemy"
will be honored
later this year.
No one can compete with the motion picture industry in this regard. Hollywood is uniquely gifted with the uncanny ability to perennially fete the the most undeserving folks in the business which...........................................which is why we need to start the Hollywood Hall of Fame!
So now it is my pleasure to announce our premiere inductees.......
"
Ferris Bueller's Day Off
" is a near-perfect movie.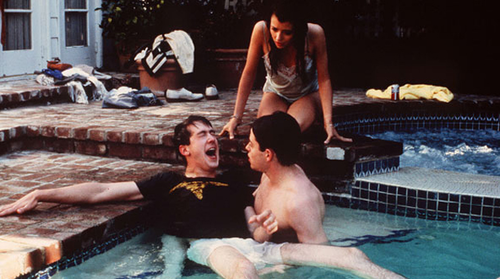 "Platoon" won Best Picture that year because the Baby Boomers will give any film a gold medal if it justifies their asinine behaviour in the sixties.
Matthew Broderick should have gotten an Oscar but Hollywood had to hand it to everybody's SAG buddy, Paul Newman for the "Color of Money" - a total BS Call.
And all of these following people should have gotten Best Supporting Actor nods but will instead be inducted into my Hollywood Hall of Fame:
Alan Ruck as "Cameron."
The great "Ed Rooney" played by Jeffrey Jones.
Jennifer Grey and Charlie Sheen in the best roles of their lives.
And these two dudes.